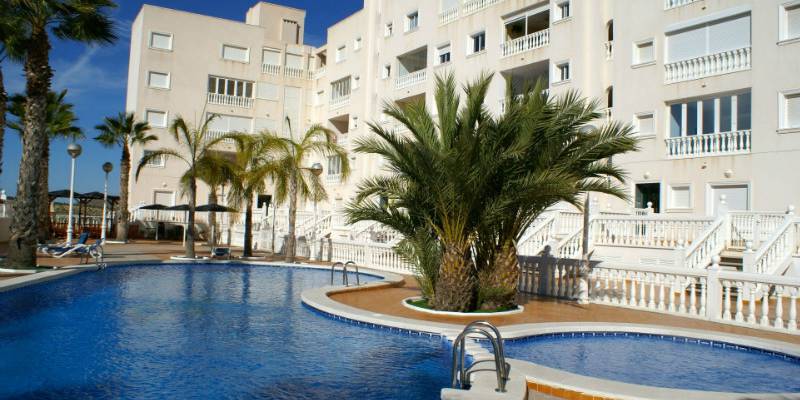 Buy Resale Apartment in Guardamar Costa Blanca
If you already have contemplated moving to the Costa Blanca or buy a home there for the best holiday from Spanish Life Properties, Real Estate Agency in Ciudad Quesada, Costa Blanca. You want to make a difficult proposition to refuse. We advise buying a resale apartment in Guardamar, or any other town on the Costa Blanca in the province of Alicante.
Guardamar in particular, is one of the most enjoyable to reside throughout the Costa Blanca towns. Attached to the towns of Santa Pola, La Marina, La Mata and Torrevieja, has the advantages that can be found in a small town with a beach paradise and many solutions for leisure and recreation as well as other advantages such as proximity to population centers very important venues like La Zenia Boulevard shopping centers in Elche and Alicante, and more.
The amount of alternatives that surround this magical landscape of Costa Blanca, is the great tradition of welcoming foreigners who came to Spain with the intention either to reside in vacation time periodically or permanently installed. Since the sixties, this town was one of the cradles of German citizens, English, French, Russian or Dutch to reach the Spanish coasts of the Mediterranean in search of the famous Spanish Lifestyle. In Spanish Life Properties are specialists selling houses on the Costa Blanca in top condition.
With a price level considerably lower than in their home countries in northern Europe, with many alternatives for fun, shops, bars, restaurants, shops, clubs, pubs ... a cuisine of the best in the world and a climate and natural environment that are so beneficial to health, purchasing a resale apartment in Guardamar Costa Blanca can be a good choice.
In Spanish Life Properties have all types of properties, from the elegance and luxury villas to the simplest scandal about prices opportunities. Furthermore, many additional services that we offer you advice, you will do much pleasurable experience mñas trust in our work.
Please contact us immediately if you are interested in buying a resale flat near Guardamar on the Costa Blanca or if you want to sell your home in the Costa Blanca to address in a more relaxed way your new acquisition. We'll help you get the home of your dreams.