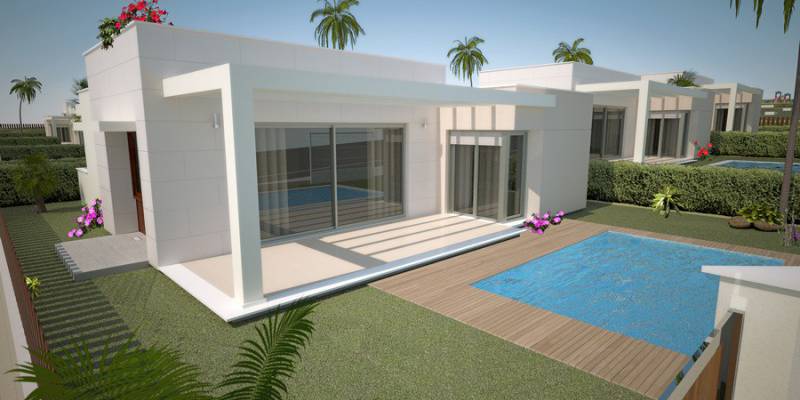 Buy Off Plan Villa in Benijofar Costa Blanca South
Buy a off plan villa in Benijófar, or any other location where Spanish Life Properties has new properties for sale on the Costa Blanca is the best way to get housing notch and a prime location at the best price.
And the truth is that there are many advantages you can get if you are interested in buying a villa plan in Costa Blanca. Here we list a number of advantages you get when looking for this type of housing:
You choose the house from the beginning

. This means that as give your property in production and design, any indication that you make may be taken into account and help you get much more suited to your taste.

Now is a safer practice

. Before the crisis in the sector, it was being built before selling, but now is contrary to streamline sales and reduce costs.

Is it profitable

. By buying the property at the current price, you earn the difference with the fututo price, so you can save quite DECISION FOR plan buying a villa on the Costa Blanca. Come out winning.

Increased customization

. As mentioned earlier you can propose modifications of space, location or finished according to your own needs. Plus you'll ajustarte better your financial capacity and thus to find a home that is perfect.

It is a good investment.

From the moment you decide to

buy property in Costa Blanca

in Spain the market value of your home go up, getting a good return on your rating.

Improved ease of payment.

This option allows a period of much larger payment. Keep in mind that the initial share of the acquired dwelling pay for parts while construction delay.
In any case, the most important thing to buy a villa plan in Costa Blanca, is to have a real estate agency as Spanish Life Properties to be able to advise you in the best way. Thus you find homes at your fingertips and are perfect to meet your desires and needs. If you want to buy or sell a home in Ciudad Quesada or any other point on the Costa Blanca and Rojales, contact us and you will soon be enjoying your new home in a magical place like the Spanish Costa Blanca.