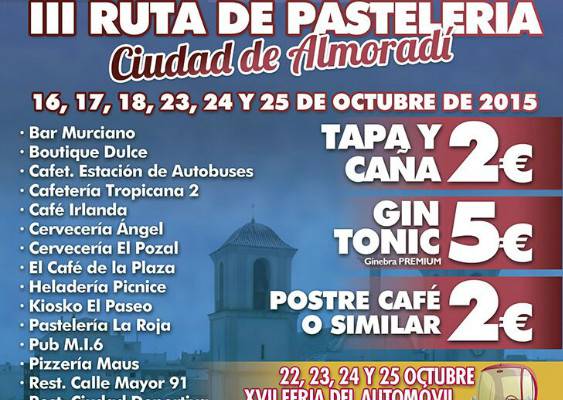 10th "Sendero del Tapeo" in Almoradí. And that's not all....
What are you doing this weekend? And the next one? If you have nothing special in mind you can visit Almoradi the next 17th, 18th, 19th, 24th, 25th y 26th October. Some fantastic events will be held those weekends, let me show you...
"Sendero del Tapeo" | 10th Almoradi Tapas Path
This will be the 10th Edition of the Tapas Path. A total of 19 bars and restaurants will offer "tapas" plus drink for just 2€ both weekends.
Also, 2 competitions will be held. The first one is for the assistants to the path, they will choose the best "tapa". On the second one a professional jury will select the best "tapa" based on various criteria:
Presentation
Taste
Innovation
...
The "Asociación y la Concejalía de Fomento y Comercio" collaborate with this event, both the organization and the promotion.
"Ruta del Gintonic" and "Ruta de Pastelería"
Furthermore, the third Gin Tonic Route and the second edition of the Cake Route will be held both weekends too.
You will be able to enjoy the famous drink and some delicious cakes at a very affordable prices:
Gin Tonic (premium): 5€
Cake and coffee (or similar): 2€
Do you think is enough? We have another one yet :)
The 17th Second Hand Car Fair will take place from 22th to 25th weekend. Great opportinities in previous edition, take a look if you are thinking of buying a resale car.
One thing more.... ENJOY!! :)